Donnerstag, 5. März 2015 · Autor:
bdm
"I Walked with a Zombie" ist der zweite Horrorfilm von Jacques Tourneur, der die Prämisse des Vorgängers diesmal einfach auf den Kopf stellt. Wo in "Katzenmenschen" archaische Gestalten plötzlich in der Großstadt auftauchten, werden diesmal einige Vertreter westlicher Rationalität direkt in einer Welt von Geisterglauben und Voodookult platziert. Das ist in diesem Fall die karibische Insel San Sebastian, wo die Krankenschwester Betsy Connell (Frances Dee) mit der Aufgabe betraut ist, die mysteriös erkrankte Frau eines Plantagenbesitzers zu pflegen. Auf einem trutzburgartig wirkenden Anwesen schotten sich die vermögenden Weißen hier von den Zuckerrohrarbeitern und ihrem Aberglauben ab. Zumindest sieht es auf den ersten Blick so aus. Erst bei genauerem Hinsehen enthüllt sich Connell – und damit dem Zuschauer – eine auf mehr oder weniger bizarre Art miteinander verwachsene Inselgesellschaft, denn natürlich hat auch der leichenblasse Pflegefall etwas mit einem nahegelegenen Hounfour zu tun. Der erste Gang der Frauen zu diesem mitten in den Feldern gelegenen Voodootempel ist vielleicht der heimliche Höhepunkt des Films, sehr atmosphärisch eingefangen, Licht-und-Schatten-Kino vom Feinsten. Insgesamt leidet der Streifen ansonsten (zu) stark an seiner sehr kurzen Spielzeit von noch nicht mal 70 Minuten. Vom Familiendrama über Glaubensdinge bis zum postkolonialen Sittenbild werden etliche Themen angerissen, aber nie wirklich ausgeschöpft und zu Ende erzählt.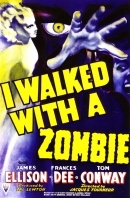 Vor allem in den letzten Minuten beginnen sich die Ereignisse zu überschlagen, was der bis dahin eher bedächtig aufgebauten morbiden Grundstimmung ziemlich zuwiderläuft. Alles in allem wird "I Walked with a Zombie" seinem vielschichtigen Stoff damit nur halbwegs gerecht, ist als früher Vertreter des Zombie-Kinos der Prä-Romero-Ära aber immer noch eine Sichtung wert.

Zusätzliche Informationen zum Film

Originaltitel: I Walked with a Zombie Land: USA Jahr: 1943 Regie: Jacques Tourneur Darsteller: Frances Dee, Tom Conway, James Ellison Weitere Infos: IMDB, Amazon
Redaktion:

Kein Kommentar