Donnerstag, 29. Dezember 2016 · Autor:
Reiskorn
Man könnte es sich mit "We Are The Flesh", dem Spielfilmdebüt von Regisseur Emiliano Rocha Minter, ganz einfach machen und sein Werk als beinahe unerträgliche, billige Provokation abtun. Und damit läge man vielleicht auch gar nicht mal falsch. Denn Minters Film ist nicht weniger als ein Angriff auf alle Sinne, das insbesondere durch expliziteste Darstellungen von Sex, Inzest, Gewalt und allerlei Körperflüssigkeiten punktet.
Die durch stimmiges Licht und fein gerahmte Bilder gekonnt inszenierte Choreographie niederster Instinkte unterwirft sich keiner klassischen Narration. Stattdessen entfaltet sich nach und nach ein Porträt der wahren Natur des Homo Sapiens, wenn mit fortschreitender Dauer jedwede Formen von Kultiviertheit abgelegt werden und freigelegt wird, was unsere Existenz wirklich antreibt: animalisches Verlangen in all seinen Variationen. Und alles was es dazu braucht, das zum Vorschein zu bringen, ist ein diabolischer Manipulator. Durch eine unerwartete Auflösung am Ende untermauert Minter "We Are The Flesh" nochmal mit einem Ausrufezeichen und legt nahe, das über die Jahrtausende entworfene und weitergegebene Regeln des menschlichen Beisammenseins nicht weniger sind als ein fragiles Kartenhaus und sich die Zivilisation stets in einem Balanceakt zwischen moralisch-ethischem Fortschritt und purer Triebhaftigkeit befindet…und jederzeit das Gleichgewicht verlieren kann. Oder vielleicht noch schlimmer: Die Rückkehr ins Zeitalter des Neandertalers wird wissentlich und vorübergehend angestrebt als temporärer Befreiungsschlag von allzu restriktiven Regeln. Je weiter die Menschheit also foranschreitet, desto extremer muss der Schritt zurück geraten – auch wenn das Tote bedeutet.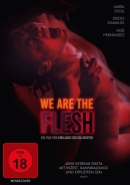 All das vermittelt "We Are The Flesh" konsequent rücksichtslos und stößt damit vor den Kopf. Das ist schmerzhaft. Aber zwischen all den stumpfsinnigen Blockbustern und seichten Komödien ist das auch ein nachhaltiger Wachmacher.
Zusätzliche Informationen zum Film

Originaltitel: Tenemos la carne Land: Mexiko, Frankreich Jahr: 2016 Regie: Emiliano Rocha Minter Darsteller: Noé Hernández, María Evoli, Diego Gamaliel Weitere Infos: IMDB, Amazon
Redaktion:

Kein Kommentar