Donnerstag, 29. Dezember 2016 · Autor:
Reiskorn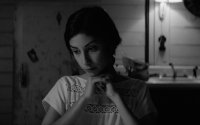 Ein Horrorfilm ohne Jumpscares dürfte heute eine kleine Rarität sein und mal ganz ehrlich: Wen sollte ein solcher Film überhaupt ansprechen? Gorehounds und Adrenalinsüchtige werden nicht befriedigt und alle anderen lehnen das Genre sowieso ab. Dabei lohnt sich ein Blick auf solch kleine, aber feine Produktionen wie "The Eyes Of My Mother", die trotz ihrer Genrezugehörigkeit genausogut das Label "Arthaus" verdient hätten.
Der Debütfilm von Nicolas Pesce verzichtet im Grunde auf alles, was Horrorfilme heute in den Köpfen vieler ausmacht. Statt Schreckmomenten im Minutentakt kommt "The Eyes Of My Mother" angenehm entschleunigt daher. Trotz der kurzen Laufzeit von weniger als 80 Minuten nimmt sich Pesce viel Zeit, Stimmung und Figuren zu etablieren. Visuell bestechen die stets atmosphärischen schwarz-weißen Bilder und einfallsreichen Perspektiven und statt expliziter Gewaltdarstellungen entsteht das Grauen auf sehr effektive Weise durch Andeutungen und Aussparungen im Schnitt im Kopf. Erzählerisch liegt der Fokus voll und ganz auf Francisca (bemitleidenswert und creepy: Kika Magalhaes), die seit einem einschneidenden Ereignis in ihrer Kindheit ein sehr spezielles Verhältnis zu Mord und Toten pflegt. Sie ist Protagonistin und Biest in einem und wird sehr ambivalent als vereinsamte junge Frau porträtiert, die sich nach menschlichen Kontakten sehnt, diese Leere in ihrem Leben allerdings mit fragwürdigen Mitteln zu schließen versucht. Als Zuschauer ist man hin und hergerissen zwischen großer Empathie und Abscheu und Pesces Regie sorgt unentwegt für eine zärtliche wie morbide Atmosphäre. Es sind gerade diese gegensätzlichen und in ihrer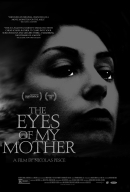 Ausführung funktionierenden Pole, die einen großen Anteil am Reiz des Films haben und Francisca als ungemein menschliches Filmmonster erscheinen lassen.
"The Eyes Of My Mother" ist handwerklich kunstvolles Horrorkino, das mit dichter Atmosphäre und einer tollen Hauptfigur auftrumpfen kann.

Zusätzliche Informationen zum Film

Originaltitel: The Eyes Of My Mother Land: USA Jahr: 2016 Regie: Nicolas Pesce Darsteller: Kika Magalhaes, Will Brill, Olivia Bond Weitere Infos: IMDB, Amazon
Redaktion:

Kein Kommentar