Montag, 2. Juni 2014 · Autor:
bdm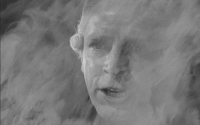 Film noir, das bedeutet im klassischen Sinn: verwickelte Gangstergeschichten im urbanen Amerika kurz vor und nach dem 2. Weltkrieg. Nicht in diesem Fall allerdings, denn Anthony Manns äußerst ungewöhnlicher Streifen "Reign of Terror" nutzt die Mittel der sogenannten "schwarzen Serie" für einen im 18. Jahrhundert angesiedelten Historienthriller. Die Zutaten sind bekannt: expressionistische Ausleuchtung, eine geheimnisvolle Schöne, Dunkelheit auf den Straßen und in den Herzen sowieso. Die fiktive Handlung spielt im postrevolutionären Frankreich des Jahres 1794, in dem "Anarchie, Elend, Mord, Arsen und Angst" regieren. In zwei Tagen will Robespierre (Richard Basehart) sich vom Nationalkonvent zum Diktator ausrufen lassen und bis dahin weitere politische Säuberungen durchführen. Als eine Todesliste mit den Namen seiner Feinde (und auch einiger Freunde) verschwindet, beordert er den berüchtigten Straßburger Scharfrichter Duval in die Haupstadt. Nicht wissend natürlich, dass dieser mittlerweile von einem durchtriebenen Doppelagenten (Robert Cummings) aus dem Spiel gezogen wurde, der nun seinerseits unter falscher Identität im Kampf um die Macht mitmischt. Anthony Mann zeigt das blutige Hauen und Stechen der Revolutionäre in einer für die Entstehungszeit (1949) relativ expliziten Härte – Gesichtsschüsse inklusive. Seine eigentliche Dynamik bezieht der Streifen jedoch aus den permanent und schnell wechselnden Bündnissen seiner Hauptfiguren, unter denen jeder jeden jederzeit auf das Schafott bringen kann. Darüber hinaus versucht sich "Reign Of Terror" als Lehrstück in Sachen Masse und Macht. Politik ist in dieser Welt das Werk von Konspirateuren, die ihre Hinterzimmerbeschlüsse einem genauso lenk- wie unberechenbaren Pöbel präsentieren – hier als Deklarationen vor einem hoch aufragenden Menschengebirge aus geifernden Gesichtern in großartige Bilder gefasst. Nur notdürftig verschleiert das vordergründige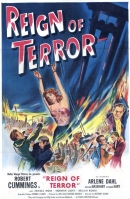 Happy End denn auch einen tiefen Pessimismus: Robespierres Kopf rollt, die Liebenden bekommen einander – und im Schatten am Rand steht ein Beobachter, der weder Franzose noch Politiker ist. Bloß ein einfacher Soldat, mit dem das ganze Spiel von Neuem beginnen wird: Napoleon Bonaparte.

Zusätzliche Informationen zum Film

Originaltitel: Reign of Terror Land: USA Jahr: 1949 Regie: Anthony MannDarsteller: Robert Cummings, Richard Basehart, Richard Hart Weitere Infos: IMDB, Amazon
Redaktion:

Kein Kommentar