Freitag, 8. Oktober 2010 · Autor:
bdm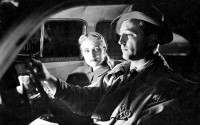 Ein Privatdetektiv wird von den dunklen Schatten der Vergangenheit eingeholt. Es geht um Liebe, die nicht hätte sein dürfen. Um einen perfiden Racheplan und darum, aus diesem Schlamassel wenigstens mit dem nackten Leben davonzukommen: "Sometimes a bad memory is like what they call an ill wind. It can blow somebody luck". Dieses Glück, soviel sei verraten, ist am Ende keinem der Beteiligten beschieden. Nach den Horrorfilmen "Cat People" und "I Walked with a Zombie" macht sich Jacques Tourneur in die moralischen Untiefen des Film noir auf. "Out of the Past" erzählt vom Täuschen und Getäuscht-Werden und arbeitet geradezu meisterhaft nach dem Prinzip der Verunsicherung. Robert Mitchum in der Hauptrolle des lakonischen Detektivs Bailey, der eloquente Halbweltmensch Sterling (Kirk Douglas) und insbesondere natürlich Kathie Moffat (Jane Greer) als rehäugiger Dreh- und Angelpunkt des Geschehens:
sie alle sind in einem verworrenen Geflecht aus Aversionen und gegenseitigen Abhängigkeiten verfangen. Wechseln permanent die Fronten, taktieren undurchschaubar – und sind immer auch unfreiwillige Spielfiguren des jeweils Anderen. Am Ende ist "Out of the Past" dann doch plötzlich ein sehr einfacher Film: die Masken fallen, die Tötungshemmung sinkt.

Zusätzliche Informationen zum Film

Originaltitel: Out of the Past Land: USA Jahr: 1947 Regie: Jacques Tourneur Darsteller: Robert Mitchum, Jane Greer, Kirk Douglas Weitere Infos: IMDB, Amazon
Redaktion:

Kein Kommentar