Dienstag, 31. Januar 2012 · Autor:
Mr. J.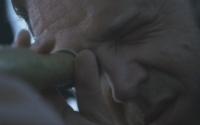 Es gab einmal eine Zeit, da musste man sich vor der die Weltmeere durchpflügenden englischen Marine noch in Acht nehmen. Die größten Feinde dabei waren, wie auch in "Master And Commander" gezeigt, Frankreich und Spanien. Bei einem kleinen Seescharmützel zwischen einem englischen und einem französischen Schiff wird das Gefährt von Captain Jack Aubrey (Russel Crowe) stark beschädigt, weil der Gegner über die besseren Waffen verfügt. Davon unbeeindruckt macht er sich auf die Jagd um die halbe Welt um es dem Erzfeind heimzuzahlen. Von Fanatismus z.B. eines Captain Ahab in "Moby Dick" ist Aubrey jedoch meilenweit entfernt. Zwar will er seinen Auftrag ausführen, doch das "totale Opfer" fordert er von seiner Mannschaft nicht. Vielmehr wirkt die Unternehmung streckenweise mehr oder weniger wie eine gemütliche Kreuzfahrt, was nicht zuletzt daran liegt das Regisseur Peter Weir Russel Crowe eine sehr humane Note verleiht. Wirklich authentisch wirkt das nicht. Mit Sicherheit war nicht jeder Captain der damaligen Zeit ein Leuteschinder, doch eine unverrückbare Hierarchie – vor allem auf einem Kriegsschiff! – war wohl allemal vonnöten. Dieser Realismus geht dem Film aber völlig ab, Mannschaft samt Captain wirken eher wie frisch aus dem 21. Jahrhundert in die Vergangenheit versetzt. Das Gegengewicht dazu bietet eigentlich "nur" die gute Ausstattung. Was "Master And Commander" aber am meisten fehlt ist Spannung, die sich bei einem solchen Thema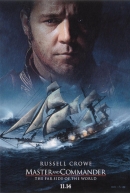 eigentlich von selbst einstellen sollte. Dröge ziehen sich die über 2 Stunden Film dahin und nicht einmal die Charaktere wissen für gute Augenblicke zu sorgen. Umso mehr verwundert es, dass der Film mit 2 Oscars ausgezeichnet wurde.

Zusätzliche Informationen zum Film

Originaltitel: Master and Commander: The Far Side of the World Land: USA Jahr: 2003 Regie: Peter Weir Darsteller: Russell Crowe, Paul Bettany, Billy Boyd Weitere Infos: IMDB, Amazon
Redaktion:

Master & Commander - Bis ans Ende der Welt

,
Kein Kommentar