Freitag, 22. August 2014 · Autor:
Mr. J.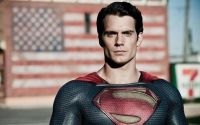 Eine neue, eigentümliche Sitte schwappt aus Hollywood in die Kinos: recht aktuelle Filme werden binnen kurzer Zeit noch einmal durch den Fleischwolf gedreht, um sie in neuer Verpackung einfach ein weiteres Mal zu präsentieren – die Kreativität scheint im Blockbustersegment nicht gerade am Siedepunkt zu sein. So geschehen z.b. mit der "Spiderman"-Reihe (2002-2007) und "Superman Returns" (2006), dem Vorgänger des vorliegenden Films, denn niemand Geringeres verbirgt sich hinter dem Mann aus Stahl. Weitere werden wohl folgen. Tja, das liebe Geld und so. In "Man of Steel" geht es um die Anfänge von Superman (Henry Cavill). Wo er herkam, was dort geschah und wie er seine Rolle als Weltenretter angenommen hat. Da wird natürlich wieder gezweifelt, vertuscht und viel gekämpft – mal gegen sich, mal gegen böse Widersacher. Einen Spielverderber gibt es eben immer, der sich einfach nicht auf seinen Hintern setzen und sein Leben genießen kann. In diesem Fall kann ein alter Feind von Supermans Vater keinen Frieden finden und heizt der Heldengestalt deshalb ordentlich ein. Eigentlich ist es auch völlig gleich, wer da jetzt gegen wen kämpft. Letzten Endes dienen sie alle nur als kleine Schachfiguren für das große Bombastspielfeld, auf dem die neuesten technischen Spielereien präsentiert werden. Da knallt es laut, einiges an Häusern wird platt gemacht, schnelle Schnitte herrschen vor und am Schluss gewinnt das Gute. Wenn es alles nicht so unglaublich vorhersagbar wäre –
mittlerweile gibt es einfach viel zu viele dieser Superhelden-Verfilmungen – dann könnte man von Zack Snyder und seinem "Man of Steel" sogar die lange Spielzeit verzeihen. Bei 143 Minuten fällt selbst das flach. Wie es besser geht, hat der Regisseur mit "Watchmen" und vor allem "300″ gezeigt.

Zusätzliche Informationen zum Film

Originaltitel: Man of Steel Land: USA, Canada, UK Jahr: 2013 Regie: Zack Snyder Darsteller: Henry Cavill, Amy Adams, Michael Shannon Weitere Infos: IMDB, Amazon
Redaktion:

Man of Steel

,
Kein Kommentar