Freitag, 2. April 2010 · Autor:
bdm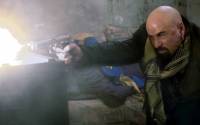 Gar nicht so einfach, einen Film wie "96 Hours" nochmal zu unterbieten, aber Pierre Morel hat es tatsächlich geschafft. "From Paris With Love" bietet eine abstruse Handlung mit dümmlichen Wendungen und einen John Travolta, der sich mittlerweile wohl endgültig aus der Riege der A-Schauspieler verabschiedet hat. Als prolliger FBI-Agent Charlie Wax walzt der stiernackige Glatzkopf hier an der Seite des blassen Jonathan Rhys Meyers durch Paris. Der Schwachsinnsplot dreht sich um islamische Terroristen und koksdealende Triaden, vor allem aber wohl darum, seinen in die Jahre gekommenen Leading Star als oberkrasse Drecksau zu inszenieren. Der ein oder andere Lacher springt dabei schon raus, aber unter dem Strich ist das hier alles nicht halb so cool wie von den Machern beabsichtigt. Das liegt vor allem daran, dass "From Paris With Love" für einen ernstzunehmenden Thriller zu abgedreht, und für eine zünftige Satire oft zu rührselig ist – diese Mischung geht einfach nicht auf. In solchen Fällen pflegt man sich dann ja immer mit der Action zu trösten – aber selbst die ist bieder bis zum geht nicht mehr und kommt über das übliche Peng Peng und eine Autoverfolgungsjagd nicht hinaus.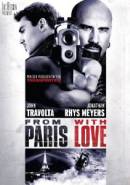 Rein filmisch ist "From Paris With Love" natürlich nicht der Rede wert, aber den zwei Trostpunkten zum Trotz muss an dieser Stelle auch gesagt sein: in geselliger Runde gibt der Streifen eine ganz gute Lachvorlage ab. Ein paar Stunden später hat man dann aber auch alles schon wieder vergessen.

Zusätzliche Informationen zum Film

Originaltitel: From Paris with Love Land: Frankreich Jahr: 2010 Regie: Pierre Morel Darsteller: John Travolta, Jonathan Rhys Meyers, Richard Durden Weitere Infos: IMDB, Amazon
Redaktion:

From Paris with Love

,
Kein Kommentar