Donnerstag, 19. Juni 2014 · Autor:
bdm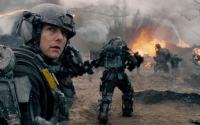 Tom Cruise bleibt erst mal im Science-Fiction-Genre: nach dem postapokalyptischen Thriller "Oblivion" zieht er diesmal unter der Regie von Doug Liman ("Bourne Identity"; "Mr. & Ms. Smith") im todschicken Exoskelett in den Krieg gegen hyperaggressive Alienspinnen. Die fixe und eigentlich auch einzige Idee von "Edge Of Tomorrow" ist es, den Immer-Noch-Superstar als Frontschwein wider Willen in eine Zeitschleife zu verbannen und gefühlte hundert Mal über den Jordan gehen zu lassen. Zwangsrekrutierung, Kampfeinsatz, Exitus und das Ganze wieder von vorne und dann gleich nochmal – so sieht grob gesagt die Taktung der ersten Filmstunde aus. Klingt doof, ist es irgendwie ja auch, weshalb "Edge Of Tomorrow" immer wieder gewaltig mit den Augen zwinkert und und bitteschön nicht allzu ernst genommen werden möchte. Aber auch dieser auf Dauer etwas überstrapazierte Kniff kann kaum darüber hinwegtäuschen, dass der Streifen in Sachen Plot nur wenig zu bieten hat. Die außerirdische Lebensform, die hier so rasend schnell Europa invadiert, bleibt bis zuletzt die große Unbekannte. Wobei, nicht ganz: wie immer in solchen Fällen gibt es auch hier die zentrale Intelligenz, das Muttertier, das gesucht, gefunden und in die Luft gesprengt werden muss, damit am Ende der ganz große Resetknopf gedrückt die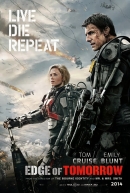 Menschheit doch nochmal gerade so davon kommen kann. Für soviel Mühe gibt's von der toughen Kriegsgefährtin Emily Blunt nach langem Beharken am Ende den verdienten Kuss – und der geneigte Kinobesucher fragt sich hinter seiner 3-D-Brille, ob Sci-Fi im großen Stil eigentlich auch noch funktioniert, ohne immer gleich die Welt zu retten.

Zusätzliche Informationen zum Film

Originaltitel: Edge of Tomorrow Land: USA, Australien Jahr: 2014 Regie: Doug Liman Darsteller: Tom Cruise, Emily Blunt, Bill Paxton Weitere Infos: IMDB, Amazon
Redaktion:

Edge of Tomorrow

,
Kein Kommentar