Mittwoch, 20. Oktober 2010 · Autor:
bdm
Wie erzählt man eine Geschichte um Wirtschaftsverbrechen, in der Will Ferell die Hautrolle spielt? Richtig, am besten überhaupt nicht. Deshalb hat Adam McKay gut daran getan, "Die etwas anderen Cops" als Aneinanderreihung absurder Einzelszenen zu inszenieren, die gar nicht erst den Anpruch auf narrative Schlüssigkeit erhebt. Egal ob "Semi-Pro", "Step Brothers" oder "Land of the Lost" – die letzten Ferell-Streifen waren allesamt fürchterlich, doch geht die Rechnung diesmal dank einer vor Einfallsreichtum nur so strotzenden Absurditätenparade weitgehend auf. Das ungewöhnliche Gespann Wahlberg/Ferell schlägt sich als vertrotteltes, gleichwohl nach höchsten Lorbeeren strebendes Bullenpärchen ganz formidabel – und das, obwohl Wahlberg immer leicht angestrengt wirkt und Ferell im Prinzip genau das gleiche tut wie in jedem anderen seiner Lachfilmchen auch. Die eigene Dumpfbackenvisage zelebrieren, kleine Gesangseinlagen zum Besten geben und, natürlich, immer mal wieder unvermittelt austicken.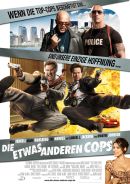 Unterhaltsame Unterstützung bekommt der Jerry Lewis unserer Tage dabei von Eva Mendez und Michael Keaton ebenso wie von den fulminant, aber leider nur kurz den Film brausenden Samuel L. Jackson und Dwayne 'The Rock' Johnson. Ein netter, harmloser Klamauk also, der aber nicht das Zeug zum Kultfilm hat.

Zusätzliche Informationen zum Film

Originaltitel: The Other Guys Land: USA Jahr: 2010 Regie: Adam McKay Darsteller: Will Ferell, Mark Wahlberg, Eva Mendez, Samuel L. Jackson, Dwayne Johnson, Michael Keaton Weitere Infos: IMDB
Redaktion:

Die etwas anderen Cops

,
Kein Kommentar