Montag, 29. August 2011 · Autor:
Mr. J.
Ob zurecht oder nicht: so wirklich kommt man als Juwelendieb der Oberklasse wohl nie zu Ruhe. An die Fersen von Max Burdett (Pierce Brosnan) und seiner Geliebten und Mittäterin Lola (Salma Hayek) hat sich schon einiger Zeit der etwas schusslige FBI-Agent Stan (Woody Harrelson) geheftet. Selbst vor Ermittlungen auf den Bahamas macht diese lästige Klette nicht halt, da vor einer ganz besonders schönen Insel ein Luxusliner mit einem diamantenen Prachtstück an Bord liegt, in dessen Besetz sich die beiden Diebe natürlich bringen wollen. Weiße Sandstrände und luxuriös ausgestattete Strandbungalows geben sicherlich nicht den schlechtesten optischen Rahmen ab, was aber nichts daran ändert, dass "After the Sunset" nur ein strunzdummer Actionklamauk ist. Die Diamantenraubstory, die "Rush Hour"-Regisseur Brett Ratner hier präsentiert, ist mittlerweile sowas von durch und langweilt durch komplette Ideenlosigkeit sowie billig inszenierte Eyecatcher praktisch die gesamte Spielzeit. Allmählich dürften dann auch alle je gefundenen Diamanten geklaut worden sein und es bleibt zu hoffen, dass die Regisseure der sogenannten Traumfabrik ihre Diebesbanden irgendwann einmal auf die Jagd nach interessanterer Beute schicken.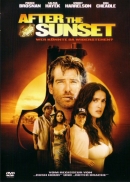 Ratner scheint sich der Problematik durchaus bewusst zu sein – und versucht Abhilfe zu schaffen, in dem er die Kamera immer wieder auf den Körper von Salma Hayek richten lässt. Der sieht zugegebenermaßen toll aus, wertet "After the Sunset" als Gesamtwerk aber auch nicht mehr auf.
Zusätzliche Informationen zum Film

Originaltitel: After the Sunset Land: USA Jahr: 2004 Regie: Brett Ratner Darsteller: Pierce Brosnan, Salma Hayek, Woody Harrelson Weitere Infos: IMDB, Amazon
Redaktion:

Kein Kommentar