Dienstag, 27. März 2012 · Autor:
bdm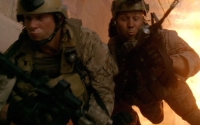 Man liest sowas ja öfter, aber selten war es so zutreffend wie hier: "Act of Valor" ist nichts anderes als ein überlanger Werbefilm für die US-Streitkräfte. Die Tatsache, dass echte U.S. Navy SEALs bei der Nachstellung ihres Tagesgeschäfts zu sehen sind, ändert am katastrophal wirren Drehbuch und dem durchgehend laienhaften Schauspiel leider nicht das Mindeste. Die Handlung ist schnell erzählt: ein eingeschworenes Spezialkommando bekommt es mit einer weltweit agierenden Terrorachse zu tun, die von Tschetschenien nach Mexiko reicht und das amerikanische Volk mit perfidem Bombenterror in Angst und Panik zu versetzen gedenkt. Man muss dem Regieduo Mike McCoy and Scott Waugh zugute halten, dass es zumindest in Sachen Action kräftig auf die Pauke haut. HALO-Sprünge, U-Boot-Aktionen oder Dschungelgefechte von Pick-Up-Ladeflächen aus – hier dürfen die SEALs nach Herzenslust Ärsche kicken und so ganz nebenbei auch modernstes Kriegsgerät wie Mini-Drohnen etc. vorführen. Schnell und längst nicht immer nachvollziehbar wird zwischen den Einsatzorten hin- und hergesprungen, dazu kommen hölzern aufgesagte Schmalspurdialoge, Klischeebösewichte, Selbstopferungszenen natürlich auch – das volle Programm. Und über allem schwebt ein (zumindest für europäische Zuschauer) enorm kitschiges Pathos des unabdingbaren Dienstes an Allgemeinwohl, Familie und nicht zuletzt vaterländischer Tradition. Um nicht falsch verstanden zu werden: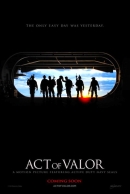 "Act of Valor" ist nicht deshalb so schwer erträglich, weil er nun mal diese Überzeugung hat und seinen Patriotismus wie eine Monstranz vor sich herträgt. Sondern weil er ein brisantes, hochaktuelles und komplexes Thema unter Wert verkauft beziehungsweise einfach für einen plumpen Anwerbefilm verschenkt.

Zusätzliche Informationen zum Film

Originaltitel: Act of Valor Land: USA Jahr: 2012 Regie: Mike McCoy, Scott Waugh Darsteller: Alex Veadov, Roselyn Sanchez, Nestor Serrano Weitere Infos: IMDB
Redaktion:

Kein Kommentar